After my last post on FTP in Eclipse, I started using Coda as an alternative editor for CFML. Must say that it is one of the nicest applications that I've used (sorry Windows users, it is a Mac only app).
It support CFML code completion, snippets and syntax highlighting. Very quick and easy to use.
In fact, I switched all text files to open in Coda. It is quite extensible and provides quite a few language modules for syntax highlighting and code completion.
Since I'm usually twiddling with Apache conf files, I found an Apache language module (http://www.codingmonkeys.de/subethaedit/modes.html). However, that module is quite old… it was last updated in 2004.
So, I decided to spend a little time and bring it up to date. It now supports all directives and keywords up to Apache 2.2.
Here is the updated version of the Apache language module Simply unzip it in ~/Library/Application Support/Coda/Modes/ folder and restart Coda.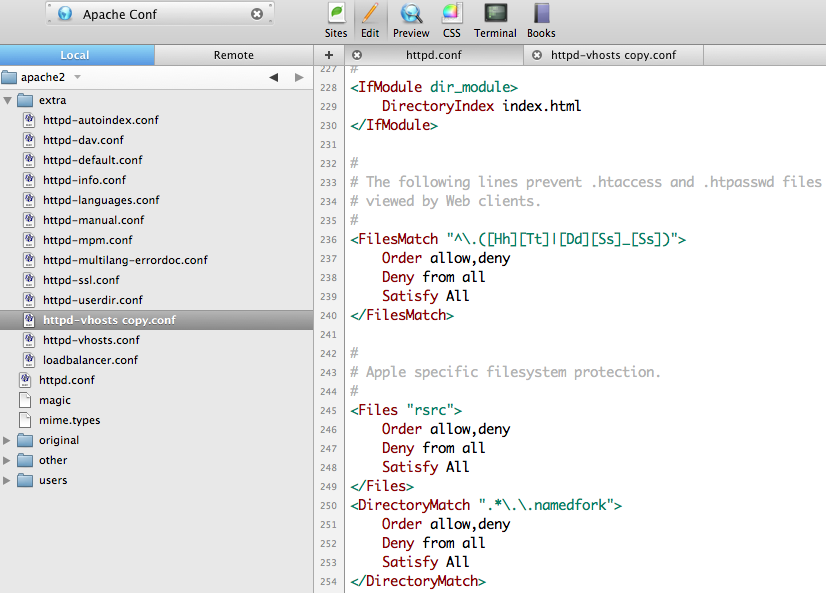 I find it really useful as you can immediately see syntax errors. It really helps in cutting down the number of times you to test Apache configuration file changes, and even number of Apache restarts.